Today Security becomes a major factor in terms your online presence. To combat the growing problem, Google is rolling out Google Play Protect, a new security platform that brings transparency to Android's anti-malware protections.
Google Play Protect, a suite of services that helps you secure any Android device with Play Store access. The feature scans apps for threats and will either keep these rogue apps off of your device or remove them. The Play Protect will be inbuilt inside the Play store, the app through which Android users download apps.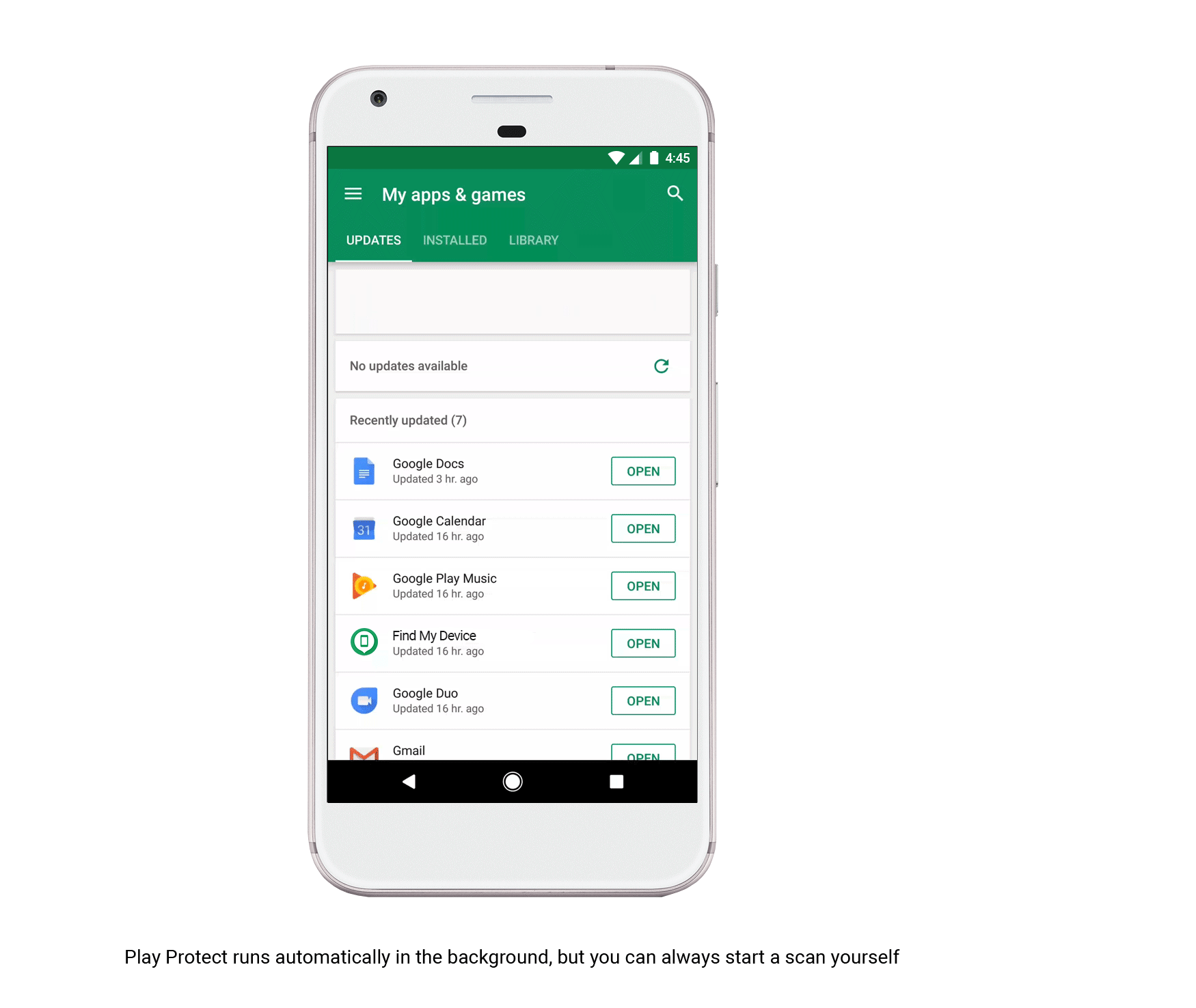 Edward Cunningham, product manager at Android security, says that Google already does enough to keep Android safe. He says that Google's security servers constantly scan and keep an eye on the Play store that there are no rogue apps in it. "With more than 50 billion apps scanned every day, our machine learning systems are always on the lookout for new risks, identifying potentially harmful apps and keeping them off your device or removing them. All Google Play apps go through a rigorous security analysis even before they're published on the Play Store.
The Google Play Protect will also allow users to scan the apps that have been downloaded from the web and not from the Play store. "Play Protect warns you about bad apps that are downloaded from other sources too. Play Protect watches out for any app that might step out of line on your device, keeping you and every other Android user safe. In terms of websites, Scan Browsing protection also available in Chrome will warn them against any suspicious site and ensure their online safety as well.
Also Read:  Android O Beta is Available To Download Now, Have a Look
What's more important is the fact that Google Play Protect runs on every single device that has Google Play installed on it. The service constantly monitors and scans apps on a daily basis and keeps itself updated too so that nothing manages to slip by.
Last but not the least, Google Play Protect comes with a device locating feature called Find My Device. As the name implies, it lets you search, ping or erase your smartphone, tablet or watch.
Also Watch: How to Track Lost/Stolen Phone
For the latest tech news and reviews, follow TechInfected on  Facebook, Twitter, and subscribe to our YouTube channel.